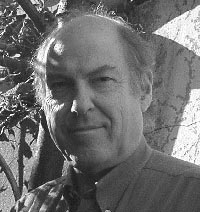 Roy Ascott, Planetary Collegium, School of Computing, Comm and Electronics,University of Plymouth, UK
Roy Ascott has shown at the Venice Biennale, Electra Paris, Ars Electronica Linz, V2 Holland, Triennale Milan , Biennale do Mercosul, Brazil, European Media Festival Osnabruck, and gr2000az Graz, Austria. He work has been concerned with integration of art, technology and consciousness research since the 1960s. He is founding editor of Technoetic Arts, international journal of speculative research www.intellectbooks.com/journals/technoetic/ , and is on the editorial boards of Leonardo, Convergence, and Digital Creativity. He has advised new media centres, juries and festivals in North and South America, Europe, and the Far East, as well as the CEC and UNESCO, and convenes the annual international Consciousness Reframed conferences (this year in Beijing). His publications are translated into many languages and include the books: Telematic Embrace: Visionary Theories of Art Technology and Consciousness, University of California Press, 2003. Technoetic Arts, Yonsei University Press, Korea. Reframing Consciousness, Intellect UK, 1999. Art and Telematics: toward the Construction of New Aesthetics, NTT Tokyo.1998 Roy Ascott is the founding director of the Planetary Collegium www.planetary-collegium.net Professor of Technoetics at the University of Plymouth, and Adjunct Professor in Design|Media Arts at the University of California Los Angeles. Formerly, he was Dean of the San Francisco Art Institute, California; Professor of Communications Theory, University of Applied Arts, Vienna; and President of the Ontario College of Art, Toronto.
Moistmedia and mediated mind
As the paradigm of interactivity in new media art unfolds, with its digital systems and processes becoming ubiquitous and commonplace, one can see that artists who work at the forward edge of speculative research will be involved increasingly in pursuing the nature of consciousness, the complexity of living systems, and the potential of biophysics, nanotechnology, and neuroscience for the development of their practice. The substrate for their work is likely to be found at the convergence of digitally dry and biologically wet systems, constituting what can be called moistmedia, bringing together bits, atoms, neurons and genes, in unforeseen configurations. Together with telematics and mixed reality technology, we shall be presented with ontological and epistemological challenges that call for subtle understandings of mind and spirit, of a kind totally absent from mainstream Western thought. Ethnobotany has revealed how older cultures have developed a noetic technology from plants. The bridge between these apparently opposed world views may lie in the realm of biophotonics, whose informational network of light within the body, emitted from DNA molecules, finds its equivalence at the planetary level in our telematic infrastructure. The emergent field of technoetics attempts to address these issues, and to provide perspectives on the post-biological mediated mind.